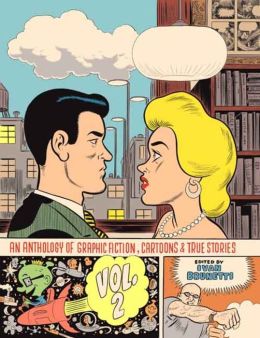 An Anthology of Graphic Fiction, Cartoons, and True Stories, Volume 2
Ivan Brunetti
Comic art is a vital, highly personal art form in which change—rapid and unpredictable—is the norm. In this exciting new anthology, comic artist Ivan Brunetti focuses on very recent works by contemporary artists engaged in this world of change. These outstanding cartoonists, selected by Brunetti for their graphic sophistication and literary style, are both expanding and transforming the vocabulary of their genre.
The book presents contemporary art comics produced by 75 artists, along with some classic comic strips and other related fine art and historical materials. Brunetti arranges the book to reflect the creative process itself, connecting stories and art to each other in surprising ways: nonlinear, elliptical, sometimes whimsical, even poetic. He emphasizes continuity from piece to piece, weaving themes and motifs throughout the volume.
As gorgeously produced as Brunetti's previous anthology of graphic fiction, this book does full justice to the creative work of Art Spiegelman, Chris Ware, Charles Burns, Gary Panter, and the other prominent or emerging comic artists who are currently at work at the cutting edge of their medium.