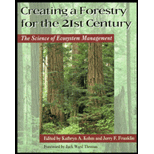 Creating a Forestry for the 21st Century: The Science of Ecosystem Management
Kohm and Franklin
Over the past decade, a sea change has occurred in the field of forestry. A vastly increased understanding of how ecological systems function has transformed the science from one focused on simplifying systems, producing wood, and managing at the stand-level to one concerned with understanding and managing complexity, providing a wide range of ecological goods and services, and managing across broad landscapes.
Creating a Forestry for the 21st Century is an authoritative and multidisciplinary examination of the current state of forestry and its relation to the emergent field of ecosystem management. Drawing upon the expertise of top professionals in the field, it provides an up-to-date synthesis of principles of ecosystem management and their implications for forest policy. Leading scientists, including Malcolm Hunter, Jr., Bruce G. Marcot, James K. Agee, Thomas R. Crow, Robert J. Naiman, John C. Gordon, R.W. Behan, Steven L. Yaffee, and many others examine topics that are central to the future of forestry:
new understandings of ecological processes and principles, from stand structure and function to disturbance processes and the movement of organisms across landscapes
challenges to long-held assumptions: the rationale for clearcutting, the wisdom of short rotations, the exclusion of fire
traditional tools in light of expanded goals for forest landscapes
managing at larger spatial scales, including practical information and ideas for managing large landscapes over long time periods
the economic, organizational, and political issues that are critical to implementing successful ecosystem management and developing institutions to transform knowledge into action.
| | |
| --- | --- |
| status | Copy #1 (6043): in |
| genre | Field Guide » Plants / Fungi |
| publisher | Island Press |
| publish date | 1997 |
| popularity | checked out 0 time(s) |